BlueSky Statistics is an easy-to-use menu system that uses the R language to do all its work. My detailed review of BlueSky is available here, and a brief comparison of the various menu systems for R is here. I've just released the BlueSky Statistics 7.1 User Guide in printed form on the world's largest independent bookstore, Lulu.com. A description and detailed table of contents are available here.
I've also released the BlueSky Statistics 7.1 Intro Guide. It is a complete subset of the User Guide, and you can download it for free here (if you have trouble downloading it, your company may have security blocking Microsoft OneDrive; try it at home). Its description and table of contents are here, and soon you will also be able to purchase a printed copy of it from Lulu.com.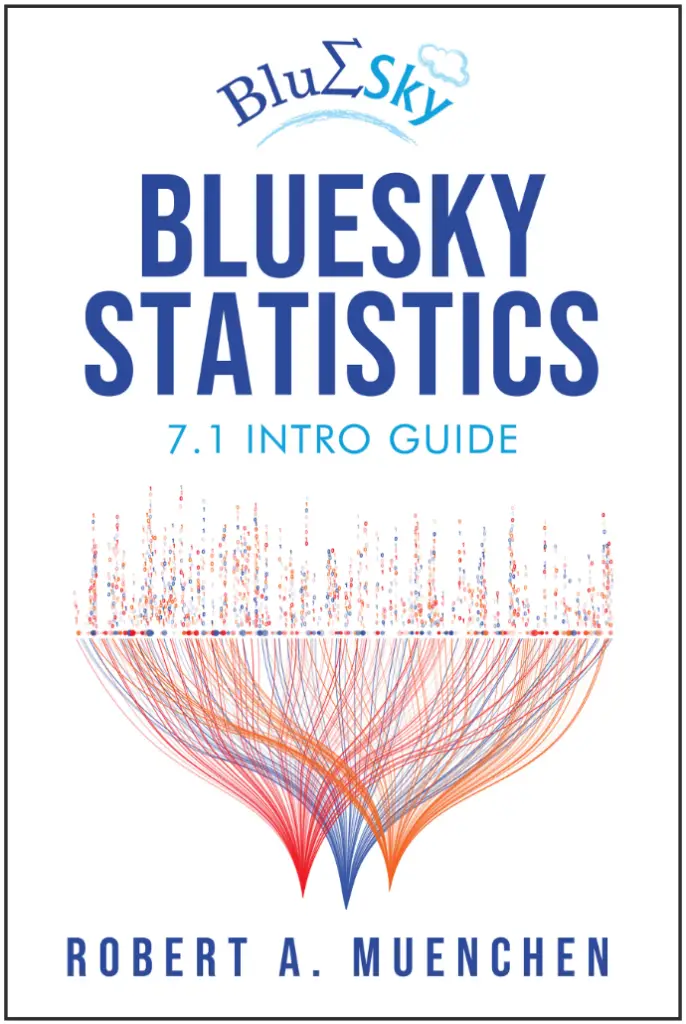 I'm enthusiastic about getting feedback on these books. If you have comments or suggestions, please send them to me at muenchen.bob at gmail dot com.
Other books that feature BlueSky Statistics include:
Introduction to Biomedical Data Science
Applying the Rasch Model in Social Sciences Using R
Data Preparation and Exploration, Applied to Healthcare Data

Publishing with Lulu.com has been a very pleasant experience. They put the author in complete control, making one responsible for every detail of the contents, obtaining reviewers, creating a cover file that includes the front, back, and spine of the book to match the dimensions of the book (e.g. more pages means wider spine, etc.) Advertising is left up to the writer as well, hence this blog post! If you are thinking about writing a book, I highly recommend both Lulu.com and getting a cover design from 99designs.com. The latter let me run a contest in which a dozen artists submitted several ideas each. Their built-in survey system let me ask many colleagues for their opinions to help me decide. Altogether, it was a very interesting experience.
To follow the progress of these and other R related books, subscribe to my blog, or follow me on Twitter.